Digital care: Machines as a panacea?
Digitisation in nursing care offers many opportunities, improves processes and relieves nursing staff. Prof. Helmut Kreidenweis explains in an interview how this potential can be used without overstepping boundaries and why ethical standards are important.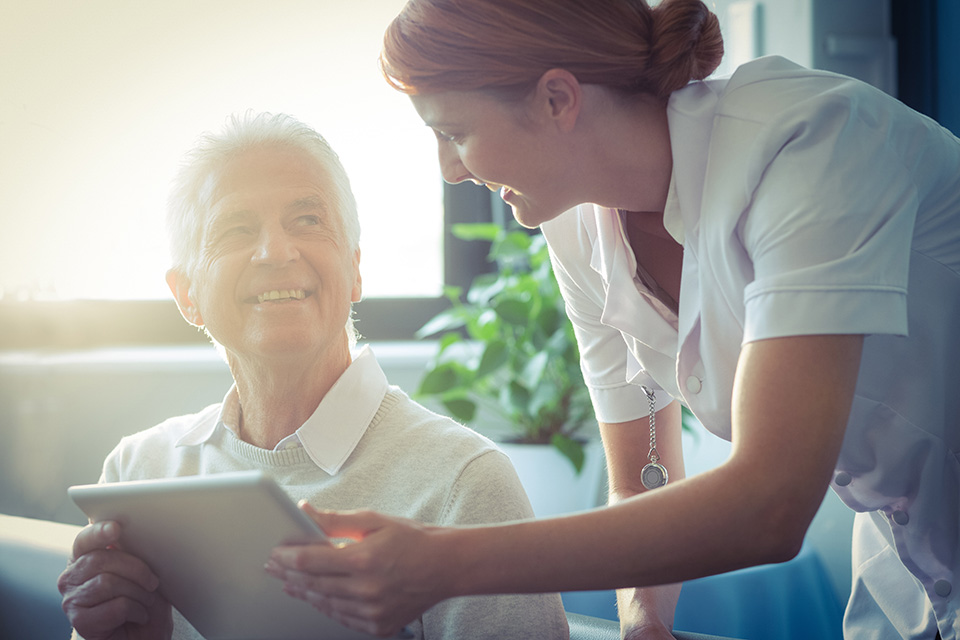 Although there is still a long way to go before we have a care robot with artificial intelligence, digital technology already relieves the burden today: assistance systems equipped with sensors and software solutions for automated ordering processes as well as networked "smart home" technologies make everyday care easier and provide more security. Investors and operators alike want to integrate the new digital solutions as quickly as possible so that they can ultimately offer a high-quality range of care services despite difficult conditions.
3 Questions to…
Prof. Helmut Kreidenweis is Professor of Computational Social Science at the Catholic University of Eichstätt-Ingolstadt and explains in an interview why machines should not replace people in spite of all the process optimisation they offer:
1. What opportunities does digitisation offer in nursing care?
The demographic shift is probably the greatest challenge in nursing care. As the number of people in need of nursing care grows, there are fewer and fewer skilled care workers. Digitisation is not a panacea, but the opportunities it offers are manifold, already starting with the consistent use of classic information technology such as professional documentation and duty roster software. Combined with the associated mobile apps, processes can thus be tremendously improved and the load on nursing staff can be effectively lightened. There is still a lot of room for improvement in most facilities.
2. To what extent is digital care desirable at all?
When it comes to care and digitisation, one often hears "dehumanisation of care" in the same discussion. Of course we need to discuss ethical issues. But we should also learn to listen more closely to what the people concerned themselves want. Current surveys show that 84 per cent of the population believe digital solutions make sense to alleviate caregivers' workload. And 76 per cent support the use of robots that support those in need of care.
But we must also take the fear of new technologies seriously and carefully accompany people – both those affected and nursing staff – during the introduction of the technology. And it is also clear that people, especially if they are cognitively or physically impaired, need human contact on all sensory levels. Machines should not replace people. This point must never become a monetary issue. We must pay very close attention to this.
3. Are there other limits to the use of digital technology?
There are always limits when those affected can no longer decide or differentiate. For instance decisions like whether my intimate care should be done by a robot or a human being. With differentiating, the point is that in communicative situations I always have to know whether I am dealing with a human being or a dialogue system based on artificial intelligence. Of course, it becomes difficult when the ability to make decisions and evaluate is severely restricted by dementia, for example. This is where we must proceed thoughtfully and carefully while developing new professional and ethical standards.
Read the interview in full length in the TERRANUS Care Report 2018!
Questions? Get in touch with us!